Religion is more about man than it is about God, and that is the way God wants it to be.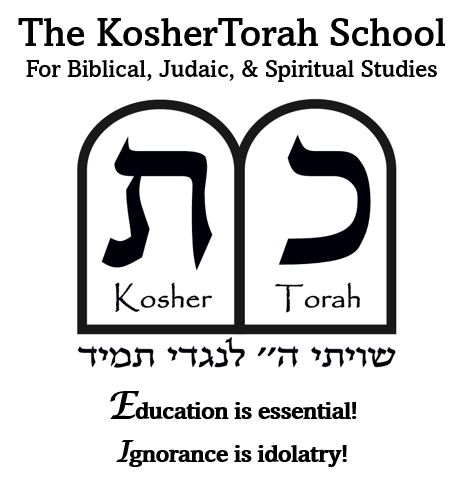 Bible, Orthodox Judaism, Kabbalah, & Meditation
All of our courses are geared towards
removing fundamentalism, extremism, superstitions, and prejudice from religion.
Shalom, Welcome, Bienvenue! Bienvenidos!
Become a contributing member of the KosherTorah School.
Join our student body.
To join our student body, and to benefit from all that our school has to offer, we request a minimum annual donation of $600.00, payable in monthly installments of $50.00.
For only $50.00 (minimum) a month, here is what you are entitled to:
1. Access to all my weekly classes...
All my private classes for our KosherTorah School student body are recorded by me, and uploaded to our private server. Once or twice a week, I will email you with our weekly update, which will include the links to the most recent online lessons.
At present this is our course curriculum:
1. Weekly Torah Portion - with Kabbalistic insights from R. Ya'akov Abuhatzera (Moroccan Kabbalah).
2. Sefer Otzrot Hayim - R. Hayim Vital's classic lessons outlining Torat HaAri'zal.
3. Sefer Etz Hayim (Gate 7) - the deeper teachings of R. Hayim covering material not covered in Otzrot Hayim.
4. Sefer Emek HaMelekh - Secrets of the lower worlds from a very profound, controversial Kabbalistic classic.
5. Sha'ar HaKavanot - the Ari'zal's secrets underlying the observance of traditional Jewish prayers.
2. I offer a 30% discount on a selection of our more involved, and advanced courses,
See the list on the front-page of our website.

3. For your support of $50.00 (or more) per month, I also offer you personal access to be in touch with me.
For members of my KosherTorah School student body, I am here for them, because they are here for me. We support one another. I cannot offer this service to the general public.

4. Audio/MP3 versions of my Facebook/Youtube videos.
Not everyone has the time to sit in front of a computer to watch a video. I convert my videos into audio files to grant my students easy access to take my classes with them everywhere, to listen to them at anytime.

5. Special Offers, (usually free) on selections of my written works.
For those who donate annually $1,000.00 or more, pastoral counseling services are available on a sliding fee scale.
So, what are you waiting for? Sign up, join the KosherTorah School today!
Here's how!
Call me! 423.333.4228. I need to speak personally with all new students. It is our meet and greet, where we can take a few minutes to get to know one another. Our KosherTorah School is very personal in this way.
At that time, I will need to receive from you your name, address, phone number, email address, and a valid credit card number (in your name). You will be pledging your annual support of $600.00 (minimum), which you can pay all at once, or in $50.00 monthly installments. This choice is yours.
This is all it takes to sign up. Once you are signed up, I enter you into our enrollment, and special student email list. You will then immediately begin to receive the invitations to the three live weekly classes, links to their recordings, and my special in-depth writings.
In order to order courses, follow the directions included in the PDF outline of each individual course. Go online, purchase the course, email me notifying me of your purchase, and before I process your payment, I will at that time deduct the 30% discount.
Thank you all for your support.
Welcome aboard the KosherTorah School!
Questions? Comments? Email me at: koshertorah1@yahoo.com
is only a selection of the many hours of quality lessons that our school offers.
| | | | |
| --- | --- | --- | --- |
| Bible | Judaism | Kabbalah | Meditation |