With God's Grace & Blessings

KosherTorah.com
Online School for Advanced Biblical Studies
Present Online Classes:
Mondays 9 p.m. ET:
EVEN SH'LEMAH, The Gaon of Vilna
Tuesdays 9 p.m. ET:
FIRST SAMUEL
* LATEST CLASS

Wednesdays 9 p.m. ET:
Mystical Talmud Legends
* LATEST CLASS

Live classes are open only to registered students.
To register, please send an email to koshertorah1@yahoo.com
and I will send you the registration information.
Recordings of most classes are available in our online MP3 store.
I Found It! Our New Class,
The Gaon's Stone
For a while now I have been looking to teach a text that offers a proper balance between simple (pshat) and deep (sod) material, that is relevant to everyday life today, and not overly philosophical.
I have made a choice that I believe will be of great value to all who join us.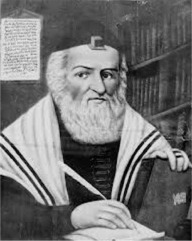 Starting Monday evening, Feb. 4, 2013,
in the online, live KosherTorah.com Open Forum (at 9 p.m. ET),
I will offer a series of classes in a small, but profound
collection of teachings from the Sage and Kabbalist,
Rabbi Eliyahu, the famous Gaon of Vilna.
The book is titled Even Sh'lemah, the Complete Stone.
This book of eleven chapters discusses:
Source of serving God-breaking bad attributes (habits).

What are the essential bad traits.

Trust in God and proper balance as opposed to the desire for money.

Man and his struggle with inner evil.

Serving God-fulfilling the commandments

Educating children and admonishments.

Speech-Torah study verses wasting time.

Studying Torah

Prayer.

Reward and Punishment.

The Future Redemption.
These chapters are short, simple and sweet to learn, and they are full of the Gaon's ideas culled from traditional Rabbinic and Kabbalistic sources.
The Gaon makes full references to his beliefs in astrology, reincarnation and other Kabbalistic concepts, the likes of which we will discuss within the text, each in its proper place.
These classes are offered free, and live, in our Monday night Open Forums, at 9 p.m. ET.
All are welcome to join, however being that access is restricted, an invitation is required.
In order to join this class, please email me your request for an invitation.
The day of the class you will receive from me an email.
Follow the instructions therein to join the live class.
The class will be recorded and MP3 recordings will be individually available in our online store for a fee of $5.00 each. Hey! Save the money! Come join us live! But, just in case you can't, you don't have to miss anything!
I have never taught the Torah of the Gaon of Vilna before to my KosherTorah public audience.
I am proud to finally add these profound teachings to our growing online library.